A Devoted Philanthropist and Leader
On July 9, 2019, H. Ross Perot Sr., a longtime supporter of UT Southwestern Medical Center and a nationally celebrated businessman, politician, and philanthropist, died at the age of 89. 
Perot has been a significant benefactor of UT Southwestern for more than three decades.
Along with his wife, Margot, and the Perot Foundation, he donated over $93 million to UT Southwestern, including a $25 million gift to support neuroscience research at the Peter O'Donnell Jr. Brain Institute and considerable support for the Innovations in Medicine campaign.
"

Mr. Perot's extraordinary support for UT Southwestern enabled us to establish and provide exceptional educational opportunities for generations of future physician scientists and deliver impactful research and care that has left a lasting impact on Texas and the nation.

"

Dr. Daniel K. Podolsky, President of UT Southwestern Medical Center
Beyond his work as a philanthropist, Perot is known for his independent campaigns in 1992 and 1996. He was also a distinguished figure in the corporate world – founding Electronic Data Systems (EDS) in 1962, and Perot Systems Corporation in 1988.
Through his success as a politician, businessman, and philanthropist, Perot demonstrated an unparalleled dedication to both his country and community. He was known for his incredible drive and humility, which made him not only a great leader, but a great man of character. 
In an interview, Mr. Perot's son and the CEO of the Perot Group, Ross Perot Jr., described his dad, saying he was "a great family man [and] a wonderful father. But at the end of the day, he was a wonderful humanitarian."
---
The Call That Started it All
Mr. Perot's roots with UT Southwestern run deep; dating back to 1985, when his good friend Ralph Rogers, who was working as Parkland's Board Chairman at the time, gave him a call. He contacted him in hopes to incite support for UT Southwestern – convinced that this was a prime opportunity for Perot to become involved in one of the "world-class" institutions he had expressed an interest in.
At the time, Perot politely declined, claiming that "perception is more important than reality"— suggesting that the medical center still had a way to go until it was considered a world-class institution.
However, in just a few short months, everything changed.
On October 14, 1985, it was announced that Drs. Joseph L. Goldstein and Michael S. Brown had won the Nobel Prize in Physiology or Medicine. This marked the first time in history that a Nobel Prize in Medicine or Psychology
had been awarded for research performed exclusively within the state of Texas. 
Goldstein and Brown were awarded for their discovery of LDL (low-density lipoprotein) receptors, which revolutionized our understanding of cholesterol and eventually led to the development of statins, which help regulate cholesterol.    
Of course, the moment the announcement was made, Rogers knew he had to call Perot again. 
"When I walked into the office this morning, I told all my associate that I would be hearing from Ralph today. I said this was going to cost me."

Ross Perot said, laughing
That call was the start of Perot's lifelong commitment to advancing medicine and improving the overall well-being of others – as well as his relationship with Southwestern Medical Foundation and UT Southwestern. 
Perot spent years involved with the medical center, working with Goldstein and Brown to identify what areas would be the best to support in order to elevate the UT Southwestern's efforts. He seized the opportunity to expand the MD/PhD program that started in 1978,  providing a $20 million, 10-year grant to UT Southwestern.  This gift empowered UT Southwestern to build the largest and most competitive Medical Scientist Training Program (MSTP) in the country. 
Perot was heavily involved in the program, calling it "an investment in people and in intellect that will bring enormous rewards in the years to come." From attending MSTP functions to speaking to potential candidates, his support far surpassed his financial contributions. 
His generosity not only helped distinguish UT Southwestern as an exceptional medical school, but provided our nation with generations of extraordinary medical researchers.  
Read more about Perot's involvement with the Foundation in Perspectives: 75 Years of Vision, Part II: 1980 to 1999.
---
The Hero of Gulf War Syndrome
After the Persian Gulf War ended in 1991, thousands of veterans returned home reporting distressing conditions – including balance problems, insomnia, memory loss, headaches, and body pain. At the time, physicians couldn't find an explanation for the symptoms – summing it up to Post Traumatic Stress Disorder (PTSD). 
Perot was a well-known supporter of Vietnam War veterans, and he personally took dozens of calls from veterans struggling after the Persian Gulf War. He confronted the skepticism surrounding the veterans' symptoms with empathy and an unwavering resolve to find a solution. It wasn't until Perot became involved that the underlying causes of the veteran's illness was revealed.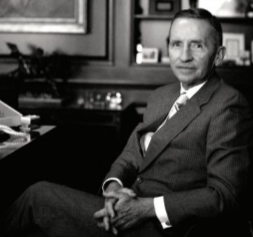 "It was obvious these men had been wounded."

Ross Perot 
Determined to find a solution, Perot turned to UT Southwestern specialists for help in 1994. He worked with Robert W. Haley, MD, Director of the Division of Epidemiology, offering a $1.5 million grant to investigate what was coined as the "Gulf War Syndrome." 
Although Haley didn't agree or disagree with the idea that these veterans were experiencing more than PTSD at the onset of the research, Perot's funding supported findings that suggested there was more than stress involved. Haley's research indicated that several veterans had suffered brain injuries that were likely caused by exposure to low levels of sarin gas, pesticides, and anti-nerve-gas pills. 
Perot's funding enabled Haley and his team to continue their research several years after their initial discovery. 
Find out more about Perot's contribution to the Gulf War Syndrome in our video below, featuring Kay Bailey Hutchison:
Read more about Perot's contributions to Gulf War Syndrome in Perspectives: 75 Years of Vision, Part II: 1980 to 1999.
---
A Lasting Legacy
Today, Perot's contributions continue to fund life-changing research, medical advancements, and discoveries. He has left a lasting impression on our community and our nation. He is survived by his wife, Margot, and five children, Ross Perot Jr., Suzanne Perot, Carolyn Perot Rathjen, Nancy Perot, and Katherine Perot. Carolyn joined Southwestern Medical Foundation's Board in 2014, and was deeply involved in the Awards Committee, serving as chair from 2008-2014. We are honored to continue to have Carolyn serving on our Board of Trustees today.
"The legacy of Ross Perot includes his deep love of family and country and his relentless pursuit of progress and innovation.  His contributions are immeasurable – with generosity extending far beyond financial support and into vision, inspiration, and commitment.  Our hearts are heavy with such a loss in our community; yet, we rejoice in the knowledge that the far-sighted investments he has made will continue to assure that health and medicine advances for the benefit of all."

Kathleen Gibson, CEO and President, Southwestern Medical Foundation
Perot's legacy inspires us forward, and we are so grateful for his lasting gifts of wisdom, leadership, and support.
---