Music as Medicine
The Lymph Notes, a student a capella group at UT Southwestern, was formed as a creative way to help mitigate the stress and intensity of medical school. However, it also highlights the healing properties of art. It follows in the footsteps of Joel Goodman, Ph.D., the Director of STARS (Science Teacher Access to Resources at Southwestern) and Professor of Pharmacology at UT Southwestern, a classical pianist who has performed in competitions around the world. In recent years, Dr. Goodman has even performed as a soloist with the Fort Worth Symphony.
The Healing Properties of Art Therapy
Courtney Crothers, Art Curator at UT Southwestern, is responsible for curating art for clinical spaces, managing the organization's more than 5,000 pieces and developing arts programming. She has been working with Madhukar Trivedi, M.D., a Professor in the psychiatry department at UT Southwestern and Director of the Center for Depression Research and Clinical Care.
"He's very interested in art therapy. He understands the therapeutic qualities of the arts in patients who have mental illness. As the Director of the CDRC, he has seen first-hand how his patients have utilized art for therapeutic benefit … as a way to handle their mental illness and work through their emotions."

Courtney Crothers, Art Curator at UT Southwestern
"Art elevates the experience of stepping foot on this campus," Ms. Crothers says. "For one thing, it is an indication that UT Southwestern has an academic medical center interested in all of humanity — all of the full person."
Ms. Crothers cites the therapeutic qualities of the arts, particularly for patients suffering mental illness, and she says that through her work she hopes to "raise awareness of how the arts can help with all forms of mental illness. And all forms of art can help."
The Power of Art
Philanthropy comes in many forms; it can fund new research facilities and staff members, or provide artwork to help people heal, physically and spiritually.
Nobel Laureate Dr. Joseph L. Goldstein, Chairman of the Department of Molecular Genetics, donated Ursula von Rydingsvard's 11-foot-sculpture Dumna, one of two sculptures he has generously gifted to the UT Southwestern art collection.
Dumna, was sculpted in 2014 from cedar beams and cast in bronze the following year. The sculpture sits near Seldin Plaza. "Dumna appears to be a natural formation, such as wood or stone, and the effect of its colorful patina changes with the light," said UTSW Art Curator Courtney Crothers. "It seems to belong where it is, as if it's always been there."
"The most gratifying aspect of my sculpture gift has been to watch many of our faculty, our employees, and our students who stop, take a look and put away their mundane thoughts for a minute or so. 'Art washes away the dust of everyday life from our soul.'"

Dr. Joseph L. Goldstein, Chairman of the Department of Molecular Genetics
Margaret McDermott, who passed away in 2018, was another philanthropist who understood the healing power of art. Her appreciation continues to enhance the patient and family experience to this day at UT Southwestern, where she facilitated a partnership with the Dallas Museum of Art to help beautify the interiors with 300 traditional Asian textiles that line the hallways, soothing all who walk them. McDermott also gave a $4.5 million gift to the UT Southwestern William P. Clements Jr. Hospital to ensure it had the "very best" landscaping.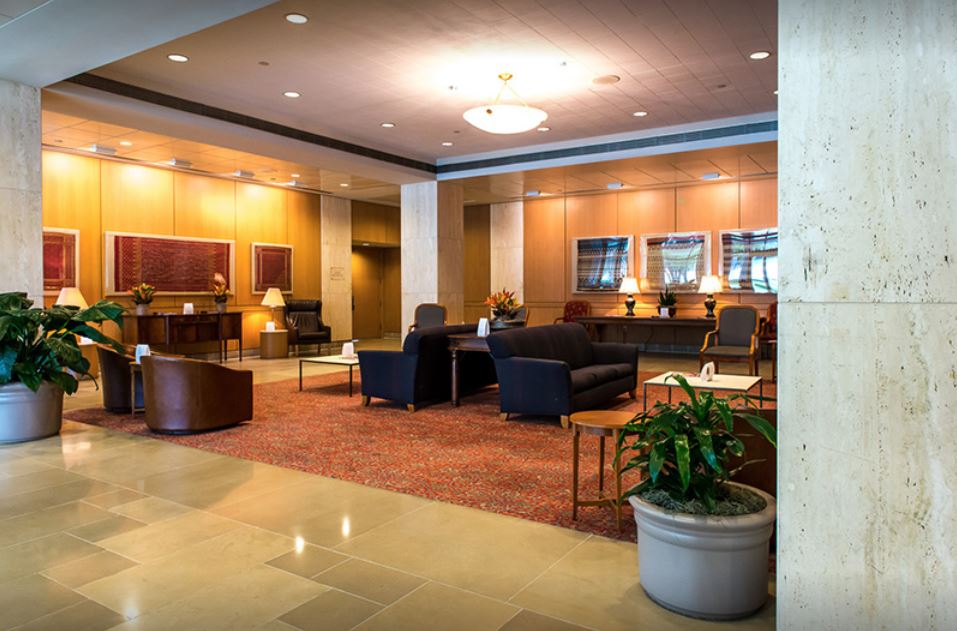 "When you're in the hospital, it can be so sad," McDermott said at the time. "I want to do something for the sadness."
Learn more about the lasting impact of the McDermott family.